Choosing a Big and Tall Gaming Chair for Heavy Duty Use
Selecting a Big and Tall Gaming Chair for Heavy Duty Use
Gaming chairs are available in an array of designs, sizes, and features. Playing games on a PC sometimes takes hours of extended gameplay. These chairs are essential for every gamer because of the comfort and support they offer to the human body. When buying a gaming chair, you need to keep several factors in your mind apart from the design and features. For instance, a big and tall gaming chair is suitable for larger gamers. The price of these chairs varies according to the size, material, and overall features.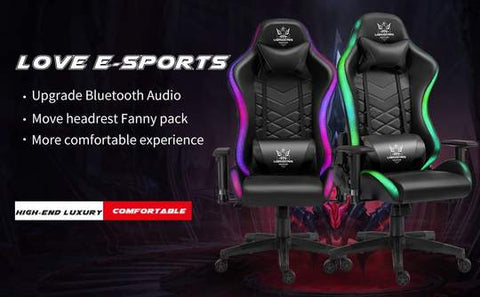 Several brands in the market sell gaming chairs with different features at different prices. If you need a big and tall gaming chair for heavy use, then this article is just for you. We will now discuss the top two gaming chairs that you can choose from.
Best Big and Tall Gaming Chair Options
When buying a gaming chair, you must make sure that it is flexible and of the right size. Different gaming chairs come with different weight capacities and sizes according to different physiques. Below are the best big and tall gaming chairs that you can buy for your gaming setup.
It is a heavy-duty racing style big and tall gaming chair with lumbar and headrest support. This gaming chair is available for $158.73 and you can buy it in black color. The premium PU leather material and up to 350-pounds support make this chair a great heavy-duty gaming chair. It is a high-end gaming chair that you can use as a gaming chair, massage gaming chair, and even office chair. Here are the top features of this chair.
Massage Cushions and Advanced Materials
The YITAHOME Massage Chair comes with massage cushions and removable headrests. It also features USB ports for better functionality. The comfortable material of this chair helps you avoid back pain that happens due to sedentary sitting. The heavy-duty frame of this chair makes the chair structure strong and stable.
Comfortable bucket seats and thick backrests of the chair provide extra comfort. This gaming chair is waterproof and easy to clean due to its premium quality leather. The best part is that all materials of this chair are non-allergic.
Ergonomic Design
The cushy and soft texture of this gaming chair ensures that your hips, head, and waist fit perfectly into the gaming chair. This chair soothes your thoracic and cervical spine to revitalize you after intense competitions or extended work hours.
Versatile Functionality
This big and tall gaming chair provides an exceptional relaxation experience during gameplay. The backrest is adjustable so the chair can move by 30-degree and recline up to 155-degree. Five durable smooth-rolling rubber casters ensure multi-directional, silent mobility.
Exquisite Accessories
This gaming chair comes with premium accessories for better safety, stability, and consistency. You can adjust 3D arms according to different angles. There is a detachable lumbar cushion and headrest that ensure comfortable sitting.
You need a high-quality, ergonomically designed gaming chair as a gamer for extended hours of gameplay. Otherwise, you will face serious issues like back pain due to an uncomfortable sitting position. Fortunately, the HopeRacer Febo Racing Series Gaming Chair is a perfect big and tall gaming chair that all gamers can trust. It is a super comfortable and bold gaming chair with peak efficiency and various adjustments. Let's take a quick look at the key features of this chair. The price of this gaming chair is $233.
Adjustable Headrest and Lumbar Pillow
Your spine needs to hold a natural position while sitting on the gaming chair. This gaming chair has a removable back pillow and headrest. You will experience luxurious relaxation with a soft pillow of the chair when playing games on your computer.
Adjustable Armrest and Seat Height
You can customize the height of the armrest with the help of a free lock to ensure a comfortable sitting position. This chair has a pneumatic adjustment, so you can adjust the height of the seat pan easily according to your requirements. It assists in minimizing stress on your lumbar and knees.
Multi-Tilt and Reclining Mechanism
It is a big and tall gaming chair with a 90-degree to 120-degree reclining mechanism for legendary relaxation. You can activate the rocking chair function through tilt tension adjustment with a knob below the seat. This combination of tilt and recline ensures an exceptional relaxation position.
Top Quality Materials
The wheels of this chair are smooth and of top-quality materials. Due to high-quality materials, they can hold massive weights, providing exceptional durability. All materials are tested and designed by following environmental factors, like humidity, colorfastness, or body sweat, etc.
Both gaming chairs are great for larger gamers who are looking for top-quality gaming chairs. You can choose any of these chairs by comparing their features and choosing one according to your requirements.
What to Look for in a Gaming Chair?
The selection of the right big and tall gaming chair depends on your personal preferences. Ideally, the gaming chair you buy should be a solid-build chair with all essential features. Make sure that the gaming chair has high adjustability levels and offers great lumbar support. There are different types of gaming chairs, such as PC gaming chairs, console gaming chairs, bean bag chairs, and racing simulator chairs. Generally, you should look for the following things in a gaming chair.
System compatibility
Size
Comfort
Extra features
Quality materials
Cost
Adjustability
You should also see the appearance and customization flexibility of the gaming chair. Gamers with a limited budget can look for more casual gaming chairs. Several less technical, cheaper gaming chairs are available on the market.
Final Verdict
We have discussed two top-of-the-line gaming chairs in this article. Both chairs are ideal for gamers who are looking for a big and tall gaming chair with great features and exceptional build quality. HopeRacer Febo Racing Series Gaming Chair is expensive of two chairs, but it offers additional features and flexibility to the users. However, you should still choose your gaming chair according to your budget and specific requirements.