How Much a is a Gaming Chair - Buying Budget Gaming Chairs
The Best Gaming Chairs in Budget
How much is a gaming chair costing, totally depends on its features and specifications.  Many see it as an expensive piece of furniture but it is much more than that. It is very important to work out your requirements rather than totally depending on how much is a gaming chair.  Although gaming chairs can cost a lot, they have special importance amongst gamers.
Some gamers do not consider how much is a gaming chair but give great significance to the chairs' specifications. All that said it is not hard to find a befitting gaming chair that doesn't cost an arm and a leg. 
A gaming chair is especially dedicated to serving as a comfortable chair that gamers can sit on for long hours and stay relaxed. These chairs have proper back, shoulder, and wrist support. The following are a few selected gaming chairs that have many features and stay within your budget.
Buying Gaming Chairs in Budget
It is very important for a gaming chair to justify some benchmarks in order to pass as a gaming chair. Moreover, we need to change the mindset that pricier is always better. You can easily find reliable and quality gaming chairs in the market at economical prices.
You can opt for any of the following gaming chairs that fall in your budget. Rest assured that they are as good as any expensive gaming chair. Some of them are from www.hoperacer.com. This is one of the renowned online brands that offer gaming chairs starting from as low as $150. The economical price doesn't mean that the quality is compromised and it doesn't have enough features to pass as a gaming chair. You need to check these out yourself to believe that in their quality specifications.
The
HopeRacer Apex Racing Series Gaming Chair (Leg Rest)
This specific model by www.hoperacer.com is available at an economic price of $239.99. They are providing free shipping worldwide. Other than policies in some countries, it is sure to deliver the chair in 10-15 days. They are also offering a warranty for a year with 30 days return policy.
Only a true gamer can understand the features and characteristics of a good gaming chair. And this chair is enough to give you a top-notch experience. They are famous for their comfortable seating and providing a relaxing effect on the muscles. It comes with several adjustable options that one doesn't expect at such an inexpensive price.
They have adjustable lumbar pillow and headrest options. That being said, the headrest is totally removable too. It naturally assumes the shape of the spine to provide comfortable support with soft and plush pillow options. The armrests are also adjustable and the user can provide their customized measurements so the company can build the entire chair according to your specifications.
Even after getting a customized chair, the company offers adjustments in the seat so that you can adjust it later on if the need arises. This is very helpful in minimizing pressure on the lumbar, neck, and knee area.
Now proceeding towards reclining options, the chair allows a mechanism that ranges between 90 to 150 degrees. You can even adjust the tilt angle with an adjustable knob under the seat. The material of the chair is faux leather and alloy. They are available in grey and black color and can carry up to 250 pounds in weight.
The HopeRacer Rally Racing Series Gaming Chair (Blue)
This is a revolutionary gaming chair all because of its price that is $149.99. Since this is also from www.hoperacer.com, this surely means free shipping, delivery within 10-15 days, a 1-year warranty, and 30 days return policy.
This gaming chair is actually a game-changer. This is because it is offering so much in a minimal price range. They have ergonomic armrests that have heavy padding which facilitates a natural seating position. It also has high-quality neck support for making them comfortable for long hours.
It even has water-resistant qualities due to the materials used like PU leather. This naturally strengthens the chair structure and much more durable. Along with adjustable armrests, neck support, and a height adjustment, the company is also providing customizable size and height options for the chair. The chair can rotate at 360 degrees and can carry up to 250 pounds.
You can easily order this item on their website. It stays high in demand all the time due to its price bracket and multiple features.
Furthermore, they so offer to recline and tilting options for a flexible experience.  It aligns naturally with the spine and has all the qualities that a good gaming chair must possess.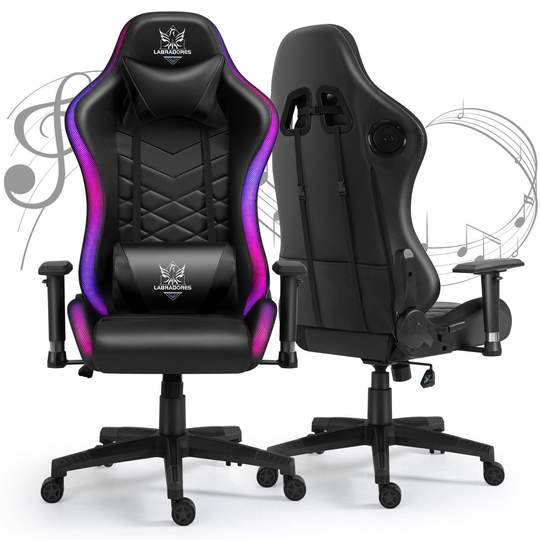 Summary
A good gaming chair carries the same significance as a state-of-the-art gaming desktop. No matter how updated your gaming PC is, if your gaming chair is not comfortable then the entire system is useless. A gamer would understand the need for a proper gaming chair because they are the ones who have to sit on it for several long hours. Moreover, it is not impossible to find a good gaming chair on a budget. In fact, they are extremely common and have high quality just like any pricier version of the gaming chair. All you need is to look around for reliable brands that are offering all your desired requirements in a gaming chair.