A guide to buying the most comfortable gaming chair
Introduction
Due to the pandemic, people have been spending more of their time at home. Many people have even decided to have an office at home so that they can work from home. Those people and others who might be searching for a good office chair might want to rethink it. Instead of an office chair, why don't you give it a try to the "gaming" chairs? Gaming chairs have become quite popular now. These chairs are a much better option than traditional office chairs with their low backs, uncomfortable design, and lack of style. This article is all about gaming chairs and how to buy the best and most comfortable gaming chair amongst the sea of gaming chairs in the market right now.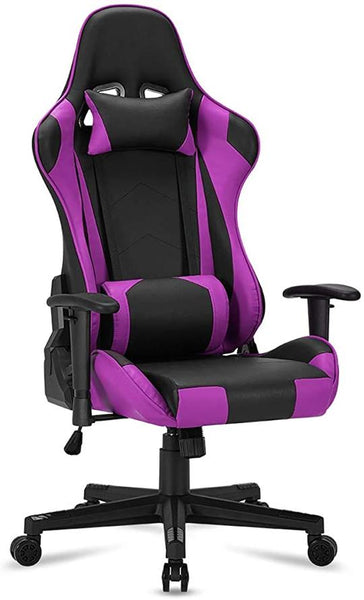 What are gaming chairs, and why should you buy them?
A gaming chair is a chair that has a high back, and it's designed like a race car seat. They usually have a leather or faux-leather build. The gaming chairs have many features in them, all contributing to the comfort level of the chair. As gaming chairs are designed for gamers, they are manufactured with higher comfort levels so that gamers are relaxed throughout their long gaming sessions. Despite their name, gaming chairs are not just for gamers. People who do a desk job, work in an office, work from home can use these chairs. Additionally, people who have mobility issues and need extra support when seated or people that suffer from back pain can also use these chairs as they provide you with immense comfort.
Gaming chairs come with a mobile 5-star wheeled base, on top of which comes the seat. They have swivel capabilities that allow you to move around freely in your space, and they also have high armrests for wrist support, so you are more comfortable when using the mouse and keyboard. The high back supports shoulders and neck and prevents you from straining your neck while looking at your screen. Even though gaming chairs are set in an upright position as default, they can tilt backward and lock in various reclined positions as well, allowing you to recline them as you please, making them even more comfortable.
Things you need to consider when buying the gaming chair
Now that you know all about the gaming chairs, it's time to see all the factors you need to consider in a gaming chair in detail. What features should be in the gaming chair you buy, and what features should not be in it. Let's see the guide to buying the most comfortable gaming chair.
Built quality and upholstery
This has to be a crucial factor to consider. The higher the built quality of your gaming chair, the longer it will last without breaking, and it will be much more comfortable as well. Now keep in mind that quality comes with a price, so you will need to invest more to buy high quality and longer-lasting gaming chair, but even in a lower range, one should look for the chair with the best quality available. There should be no compromise when it comes to quality. An excellent way to check the quality is by checking the frame of the chair. It should be sturdy and powerful, and a high-quality frame should be made up of metal, preferably durable steel.
Moreover, the upholstery material and the filling of the seats are also essential to consider. High-quality chairs are filled with mold shaping or cold foam and are upholstered in PU leather. The upholstery should be breathable so that there is less sweating when spending long hours sitting. Moreover, its quality should be high enough that the color doesn't run away or gets dull due to sunlight.
Adjustability
The gaming chair should have adjustable seat height, backrest angle, and armrests so that the user can adjust them according to their body's dimensions and their desired comfort level. The armrest is very important, the armrest should be present in the chair, and they should be adjustable. If armrests are not present or not adjustable, they can cause your shoulders to strain. The chair should have lumbar support and a headrest. Good gaming chairs will come with adjustable lumbar support and headrests that will help you adjust them according to your spine and head. These will help you avoid back pains and provide you with a better sitting posture. All these detailed features are critical as these are the key features that will provide you with the high levels of comfort you require for long hours of work or gaming sessions.
Many chairs also come with a retractable footrest with further increases the comfort of the chair. With the retractable footrest, you can relax more and even enjoy a nap between your gaming or work on your gaming chair. But footrests are not as important of a feature as the other mentioned features are. And to add to the list of essential parts, we have the tilt lock or tension mechanisms that allow you to lock your backrests in different tilting positions. This will enable you to enjoy different postures on just one chair.
Weight capacity and dimensions
Another crucial factor to consider is the weight capacity of the gaming chair; many people forget about this essential factor. There are many different types of gaming chairs on the market with different sizes and weight capacities. Amongst so many options, you need to look for the size and weight capacity that will fit you the best. Moreover, check the dimensions of the gaming chair you are going to buy. Some chairs have more narrow seats than others, and if you have a broader body, you need to check for chairs with a wider seat. All of these little details are what make all the difference.
Our recommended gaming chair that meets all the above criteria is,
HopeRacer is a premium gaming Chair Company that was developed by gamers back in 2018. They started their brand on Amazon, became Amazon's top 10, and now they have developed their website. Ever since the beginning, they have been providing their customers with high-quality and cool design gaming chairs.