5 pink mouse pad options for girls
The Rising Trend of Using Pink Mouse Pad for Girls
Over time, people have certainly developed their own sense of style and preference. Their style and preference do not restrict to their physical appearance.  It exceeds their physical appearances and affects their personal belongings as well. A pink mouse pad is one such style that people are willing to develop as their personal taste. A pink mouse pad helps people in adding a personal touch to their possessions.
The pink mouse pad is quite famous, especially amongst girls.  When people want to add personalization to their computer systems, it is a given that they add their favorite colored accessories to their systems. After a mass survey, it shows that many girls prefer pink-colored accessories for their PCs. Hence, a pink mouse pad is an ideal accessory to add to their collection for a peculiar setting.
The Best 5 Pink Mouse Pads for Girls
After a general survey showed girls' preference towards the color pink, urged manufacturers to manufacture mouse pads in the color pink. Retailers and online businesses like www.hoperacer.com are successfully making mouse pads in vibrant ranges of pink color. Some other online retailers include amazon.
The following are very famous 5 pink mouse pads much likable amongst girls.  Each one has its own specifications, quality, and price range. All are described in detail for the user to make a feasible choice for their desired systems.
The HopeRacer Large Pink Gaming Mouse Pad
www.hoperacer.com is offering their HopeRacer Large Pink Gaming Mouse Pad at the price of $36.55. They provide free shipping all over the US and usually deliver in 5 to 10 working days.  In order to give a satisfactory user experience, they offer a warranty that extends up to 1 year.  They have extremely efficient customer service that deals in returns and refunds within 30 days.
This particular mouse pad is available in pink, black, and white colors.  This is not an ordinary mouse pad.  It is not only unique because of its pink color but also because of its size.  It is big enough to accommodate a mouse, a keypad, and other associated accessories.  Its anti-slip quality is due to the rubber base.
The rubber base makes sure that the mouse pad remains in place all the time without clustering when in use.  It is smooth, flexible, and allows easy gliding of the mouse.  You can even roll it and carry it around due to its lightweight. Hence, it is a good investment because you are unlikely to damage it even after using it roughly.
Moving on to the specifics, the texture is high in quality that is water-resistant.  It is easier to clean and long-lasting. They approximately measure around 31.5, 15.75, and 0.12 inches in length, width, and depth respectively.
The Pink Butterfly Non-Slip Gaming Mouse Pad
This pink mouse pad retails for around $11.73.  It is available on Amazon and they charge a separate shipping fee for this item.  This non-slip gaming mouse pad adds a unique touch to the entire system by giving a personalized design of pink butterflies on the mouse pad.  It is suitable for all kinds of environments including homes and offices, especially for girls.  The size of the pink mouse pad is 9.5 inches by 7.9 inches.
Although the material is not quite durable, it offers many other qualities like the softness of material that is comfortable for wrist action.  It has a non-slip rubber base that grips the area under it, easy to clean, and maintain. Thus, it's suitable for all kinds of mice.  Many people consider it a great gift that is stylish yet affordable.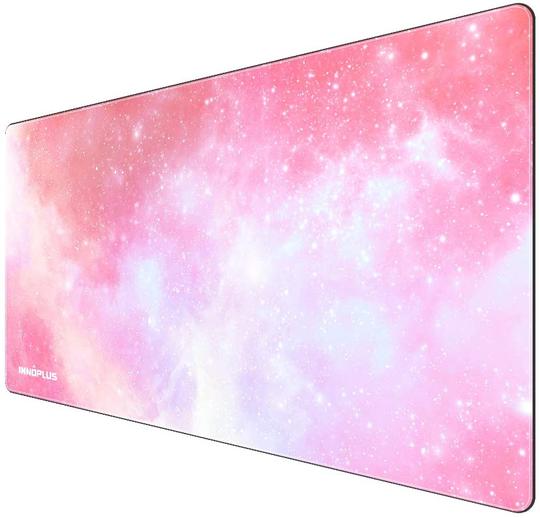 The
DemonChest Pink Mouse Pad
Another brand that goes by the name DemonChest is offering pink mouse pads.  Their pink mouse pads have incorporated wrist support through a gel.  It is ergonomically suitable for gaming desktops.  Also, it has a rubber base that is suitable enough for laptop as well as desktop computers.  It has anti-slip qualities due to its silicon structure and textured surfaces.  They are available in 9 different colors other than pink.
Moreover, it is oval in shape and aids in wrist movement without causing stress to the joints.  It is large enough to accommodate an average-sized mouse with easy gliding. This retails for around $10.99 on amazon with high-quality and durable sustainability. 
The Atomic Market Hot Pink Skull Mouse Pad
Another bestselling pink mouse pad on Amazon is by the brand named Atomic Market.  This specific mouse pad has a rating of 4.5 out of 5 stars.  This is why it stays out of stock most of the time because of remaining high in demand all the time.
Its size is around 7.75 inches and 9.25 inches and has a thickness of about 0.44 inches.  It is extremely popular because of the hot pink color and skull design.  They are easily washable and reusable with a rubber base and anti-skidding qualities. It retails for around $15.79 along with free shipping.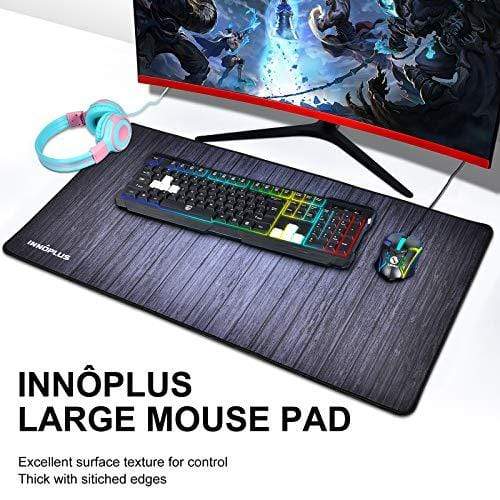 The LeadsaiL Pink Mouse Pad
This pink mouse pad by LeadsaiL is ergonomically designed for desktop gaming purposes.  The support wrist support contains gel hence acts as a cushion. The shape of this pink mouse pad performs optimally in the favor of the user.  Its measurement is 9.1, 10.2, and 0.95 inches.  This mouse has a textured surface to prevent any distortion and resist damages in the long run.
It is extremely comfortable and keeps the user in control without stressing the pressure points.  They are only available in two colors; Rose pink and purple.  Moreover, you can stick these pads onto your desktop and remain tension-free regarding slips and bundling up. They are available in the market for $30 with free shipping.
Conclusion
Every person has their own preference and style when it comes to personalizing their desktops. Similarly, when it comes to mouse pads, the market is flooding with different varieties in color, shapes, and sizes of mouse pads.  It totally depends on the user's personal taste as to what they want to install and invest in when it comes to their computer accessories.